KPIs the easy way - Get your suppliers to provide the data
27/09/2016
Most contracts that are important to an organization will have defined Key Performance Indicators (KPIs) associated with them. When contracts are negotiated there is significant effort to get the KPIs right for the business and for the supplier to agree to them.
But once agreed, the effort associated with collecting the data and analyzing whether or not the suppliers are performing can be a big job. Add to the mix that many KPIs across a multitude of suppliers and organizations can have whole departments tracking supplier performance or, worse, they don't bother.
Why bother using KPIs
Won't suppliers just "get on with it"? In some cases yes, but there are three solid reasons to use KPIs to measure the performance or progress of your suppliers.
Suppliers that are actively measured will perform better. Simply measuring their performance results in an improved performance - and where this is measuring performance that has associated credits or rebates for non-performance - it's a no brainer.
To reduce the number of supplier decisions that are based solely on instinct or gut feel and make decisions based on objectivity and facts.
Quantify the achievement of goals by setting, monitoring and measuring against a standard or target.
Delivering the Benefits of KPI without the Effort.
So how do you solve the problem of getting the great benefits of KPI tracking but miss out all the effort associated with collecting the data?
intelligentcontract.com has a KPI feature that allows you to set up and simply track performance of KPIs across many suppliers or contracts.
KPIs can be easily and flexibly defined. For example, a supplier measured on answering calls within 8 rings in 95% of cases can be set up and tracked with a couple of clicks.
Typically, a KPI is measured each month. intelligentcontract.com will send an email to the supplier requesting KPI measurement data. A link on the email will allow a supplier to securely provide KPI information - removing the burden from you entirely. The supplier does not need to log into the system - simply click the link they are sent and provide their measures. Example shown below.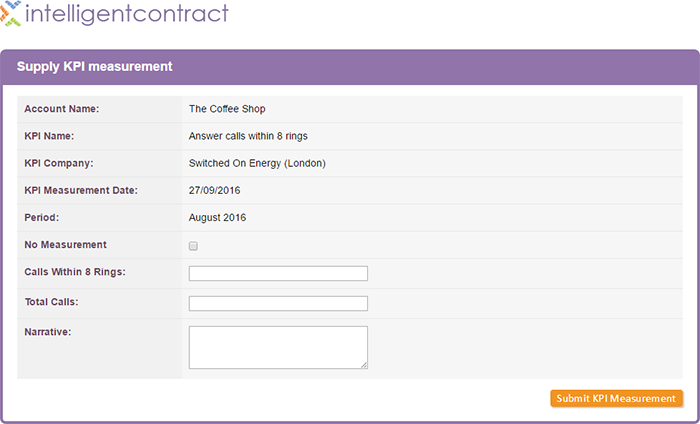 Measurements provided by suppliers are automatically added to the KPI and made available for reporting.
How to get started
You can finally put those negotiated KPIs into action and begin measuring them without any effort from yourself using intelligentcontract.com. Start a 14 day free trial here: www.intelligentcontract.com and only £29 per user per month thereafter.
If you're existing customer, please get in touch and we will help you get started using KPIs within your account.
If you have questions or prefer to speak with someone call us free on +44 (0)333 344 3905 where a friendly real person is waiting to take your call.
Back to Blog